At Seni Dey we create modern, effortlessly stylish wedding dresses for free-spirited brides. We tailor each piece to your individual measurements, so you can look and feel like the very best you. Using the models in our collection as a base design, each dress can be customised to fit your personal style. Your wedding, your way.
Dress as you
Though many women dream of a Disney princess ball gown, we recognise that not all women fit into this category. We design for the cool, laid-back, minimal bride. Our bridal wear is light without being too playful, grand without being too imposing – a motto which can be summed up with the simple words 'effortlessly stylish'. Check out our collections
Wedding Dress Shopping Made Easy
You've searched bridal stores high and low, but haven't found what you're looking for, that wedding outfit that screams you? Close your eyes and take a deep breath. We will take it from here. We are here to make sure that you don't end up dreading and stressing over your big day, but feel light and giddy with anticipation. Simply choose a style from our collection, select your custom options and send us your measurements. Put your feet up and three weeks later, you will receive your wedding dress – it really is that easy. Find out more about how it works
Affordable Luxury
Each piece is handmade in our atelier with only the best fabrics: smooth silks, soft satins, light chiffons, delicate tulles, chantilly laces, we could go on and on. We place a high emphasis on our choice of materials and set rigorous standards for the production of quality clothing. Each bridal dress is made by hand, with obsessive attention to detail.
We want your reflection to make you smile, to take your breath away, without having you spend a small fortune. How do we do this? We offer our made-to-order designs exclusively online.
Ethical and Environmentally Friendly
All of our bridal designs are produced in our company-owned atelier in Portugal. This enables us to ensure that our dressmakers enjoy excellent working conditions and are paid fair wages. Operating our own production in Europe not only makes it easier for us to guarantee good working conditions but also facilitates short transport routes, reducing our negative impact on the environment. By only manufacturing after your order has been placed, we ensure that only the necessary resources are utilised, helping us prevent excessive waste production.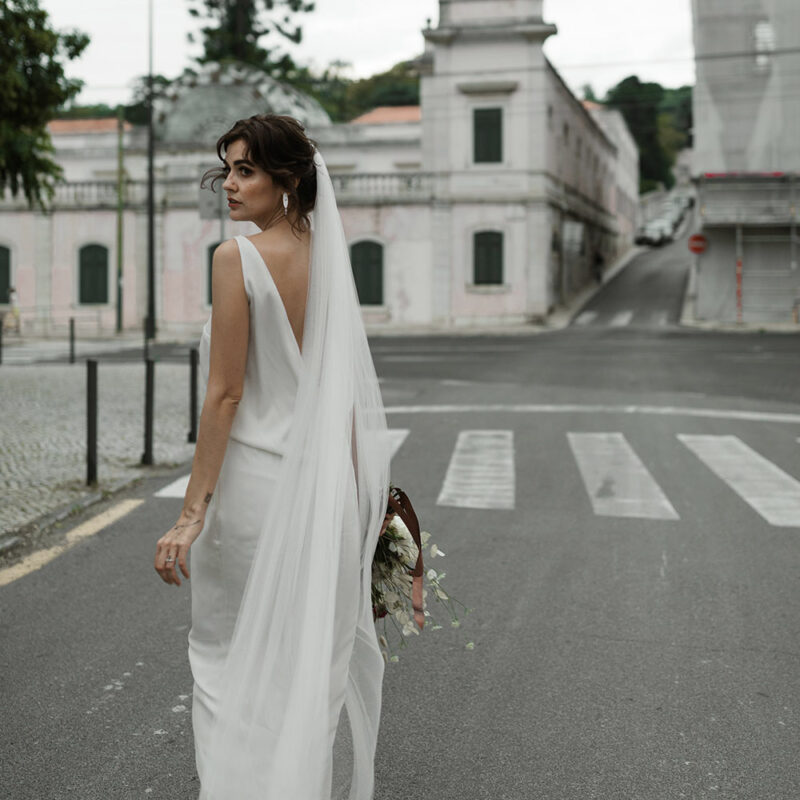 The Team Behind Seni Dey
They say if you do what you love, you will never work a single day in your life. This saying has become true for us. Knowing that our products are part of such special moments in our customers' lives inspires and excites us. We are always looking for inspiration, ideas and new ways to create products worthy of such moments. Thank you for supporting us. You allow us to continue doing something we love and we could never truly put a price on that.
Your Seni Dey Team
Ensi, Founder
SPENDS HER DAY – Creating amazing products for you and making sure you have an awesome experience interacting with Seni Dey
LOVES – Chocolate, beautiful clothes, doing new things
HATES – Leopard prints and software crashesGOT ANY COOL IDEAS FOR SENI DEY? Email Ensi at [email protected]
Fidan, Customer Care
SPENDS HER DAY – Helping you with any issues or questions you might have
LOVES – Ice cream, unicorns, creative designs
HATES – Monotony and poppy seeds
GOT ANY QUESTIONS? Email Fidan at [email protected]
Ali, Tech
SPENDS HIS DAY – Making sure our online shop is running smoothly and is easy to use
LOVES – Cinema, pizza and clean code
HATES – Tomatoes and waiting
GOT QUESTIONS ABOUT OUR SHOP FEATURES? Email Ali at [email protected]